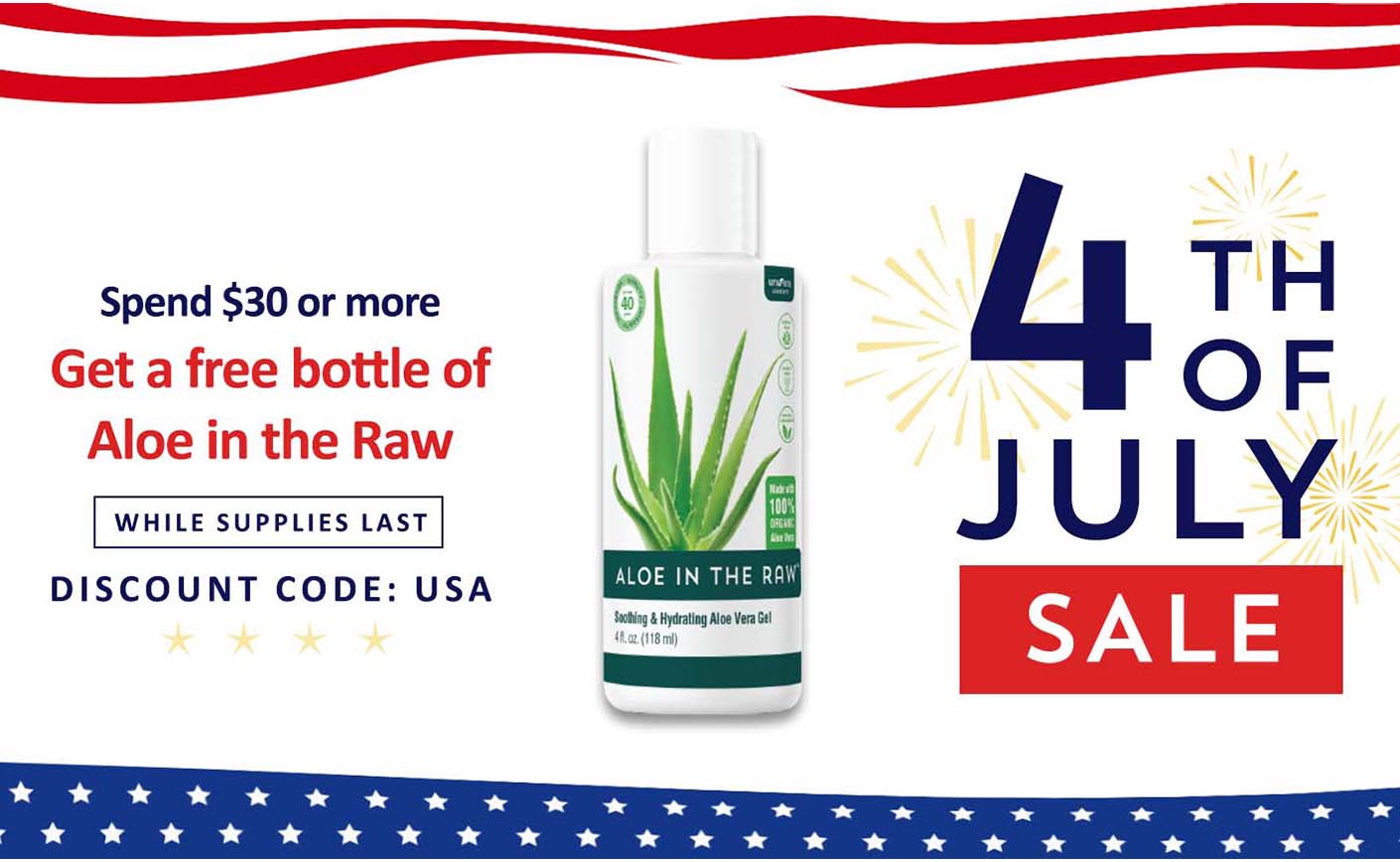 27
Jun
Holiday weekends are perfect for enjoying some time outdoors and cherishing the company of friends and family. With our busy work schedules, it is nice to be able to sit down, unwind, and enjoy quality time dedicated to re-energizing you for the week ahead.
The Fourth of July is perfect for this! Enjoy a firework show, lighting up some sparklers with the kids, or having a meal with loved ones, there is no better recipe to recover from a busy work week.
Looking to take this holiday weekend over the top? Enjoy our exclusive offer for FREE Aloe in the Raw on new orders over $30 with discount code "USA" while supplies last!
Step One: Add $30 or more worth of product to your shopping cart.
Step Two: Add Aloe in the Raw to your shopping cart.
Step Three: Apply discount code "USA" into the bottom right of rectangle, titled, "Apply Discount Code"
Step Four: Enjoy healthy, ageless skin with Aloe in the Raw!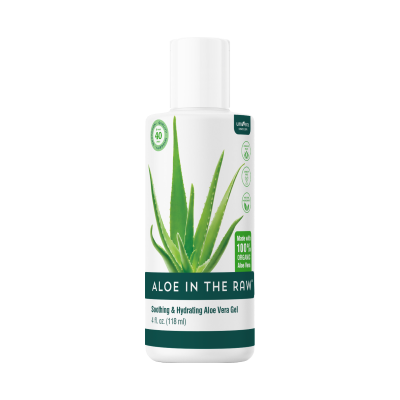 Aloe in the Raw is made with 100% Organic Aloe Vera that promotes healthy, moisturized skin. From dry, oily, normal or a combination of these, this moisturizing gel can improve your skin's appearance and feel. The soothing effect of Aloe feels amazing and can be applied multiple times during the day to keep your skin looking and feeling great, all day long.
Find comfort in the enhanced skin recovery benefit of this product. Minor cuts and burns can all be aided by this gel. Improve the feel and elasticity of your skin while reducing stretch marks and scars. Aloe in the Raw enhances your skin to promote a more confident you!
Long days out in the sun? Don't worry, we have you covered. Aloe in the Raw's cooling effect aids in pain relief from sunburns. Enjoy the time you spend outdoors even more knowing there is Aloe in the Raw at home ready to assist you if the sun gets the best of you.
How To Use:
Apply and massage into skin gently throughout the day. Allow the gel to fully dry before moving on to the tasks ahead. With our quick-drying gel, you will be able to get back to work fast!
Natural Ingredients = Great Products
Digestive health, enhanced energy, mental clarity, improved focus is just a few of the things we have focused on to make your life as exciting as it deserves to be. Go outside, enjoy the sun, and take a moment to marvel at the beauty around you.
Finding products with natural ingredients to benefit your life is not always simple, but always worth the search. Find the right products for you to enjoy the Univera difference with our natural ingredients, along with a free Aloe in the Raw this holiday weekend only when discount code "USA" is used!
Prefer to complete your order over the phone? Give us a call at (877)-627-4787 and we would be happy to help place your order!
*Deal Terms & Conditions: Free Aloe in the Raw when you place an order valued at $30 or more. Valid online or over the phone. Limit one coupon per transaction per customer. Cannot be combined with additional discounts or coupon or used on prior purchases, refunds or exchanges. To redeem online enter "USA" at checkout. On the phone request the 4th of July coupon be applied to your order. Offer only available while supplies last. Offer subject to change without notice. Offer has no cash value. Valid 06/27/2022 - 07/05/2022, 11:59 pm PST.