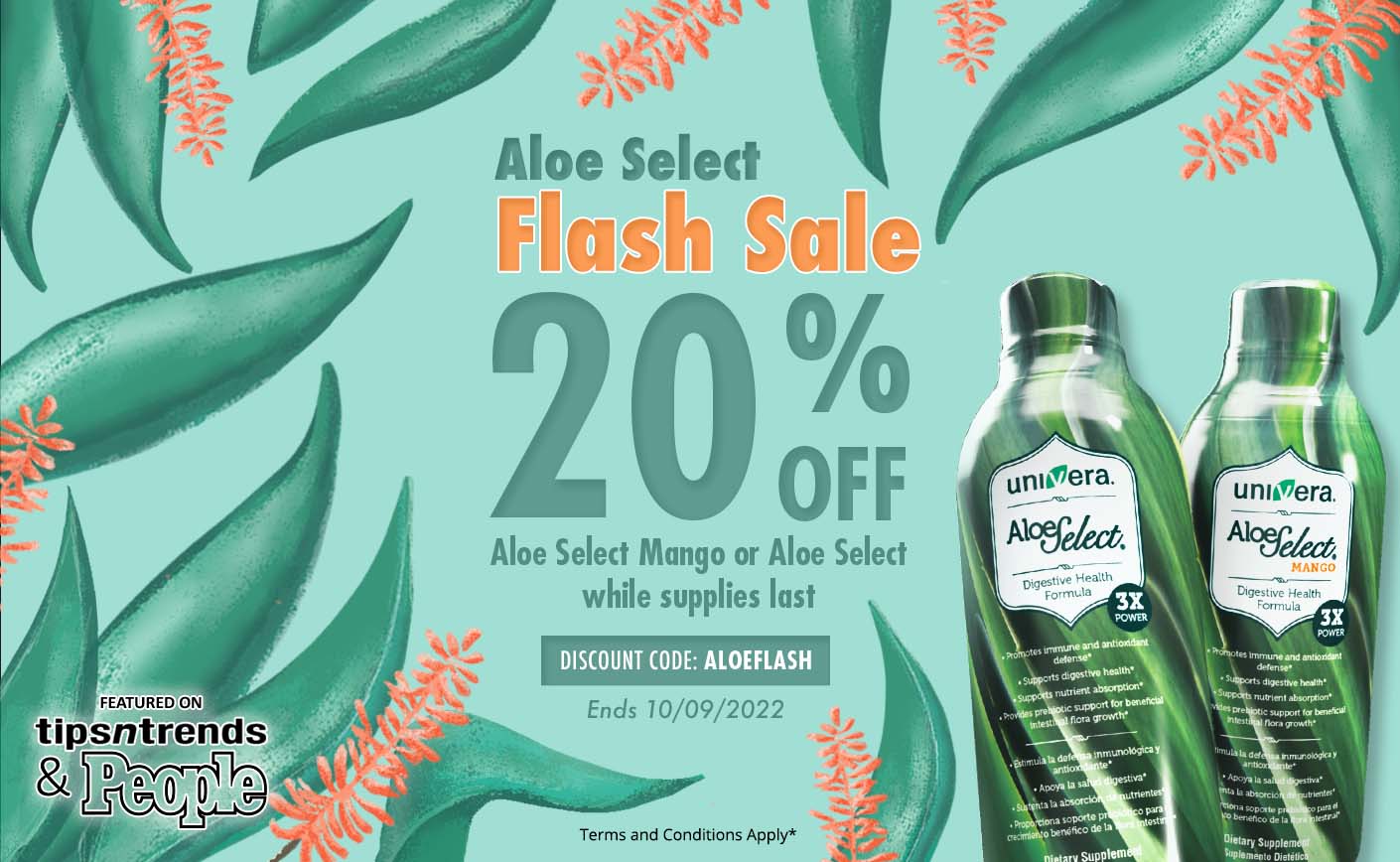 27
Sep
---
---
Follow these steps to apply this discount!

Step One: Add Aloe Select and/or Aloe Select Mango to your shopping cart
Step Two: Click "View Cart"
Step Three: Apply discount code "ALOEFLASH" into the bottom right rectangle titled, "Apply Discount Code"
Step Four: Stay healthy as we transition out of summer!
---
---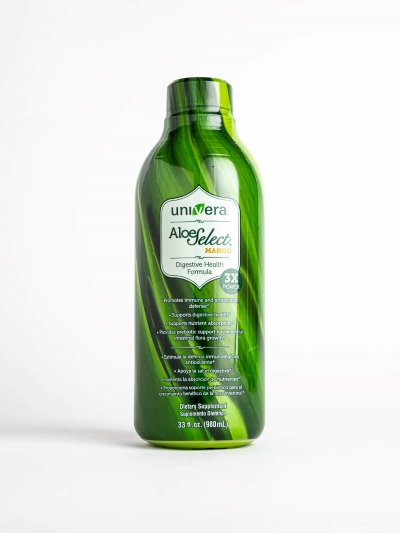 Aloe Select is a aloe vera based digestive health formula. Increase your immune and antioxidant defense with the natural aloe or Mango with Aloe Select and/or Aloe Select Mango. Get more out of your diet with increased nutrient absorption and prebiotic support to improve your overall wellness. *

We have included ACTIValoe in our formula. ACTIValoe is processed in a unique process to produce the same, high-quality aloe every time. Enjoy more benefits from the polysaccharides found inside the aloe plant with Aloe Select today!

Aloe Select will be highlighted in People Magazine at the end of September for improving your overall health. You can find this product in the Tips and Trends section of People Magazine.
---
---
Improved skin
Aloe Select is a rich source of antioxidants and vitamins that support your overall skin health while reducing wrinkles with the anti-aging effects of aloe vera. *

Promotes immune support and antioxidant defense

Because of the nature of the ACTIValoe Univera Aloe Select Mango, our high retention rate of polysaccharides helps your body stay more alert and active by infusing nutrients and antioxidants through your digestive system. * Support your immune system with a strong antioxidant defense. *

Improved nutrient absorption

Pubmed has started research on the effect of nutrient absorption in the body. With aloe, it has been shown to improve the absorption of certain nutrients. To maintain your health, your body needs to absorb as many nutrients as possible to keep your body at peak performance! *

Provides prebiotic support

You can improve your daily life when you add a prebiotic to your daily routine. Prebiotics are a great way to strengthen your immunity to keep you feeling 100%. *

Digestive Aid

Univera Aloe Select Mango contains high quality Aloe Vera processed from the largest aloe vera farms in the world. * The patented concentrate, ACTIValoe, contains 100% hand-harvested peak aloe that is derived from the whole aloe leaf, with all the health benefits included. Help your body support your digestive health and nutrient absorption and provide prebiotic support for beneficial intestinal flora growth. *
---
---

---
---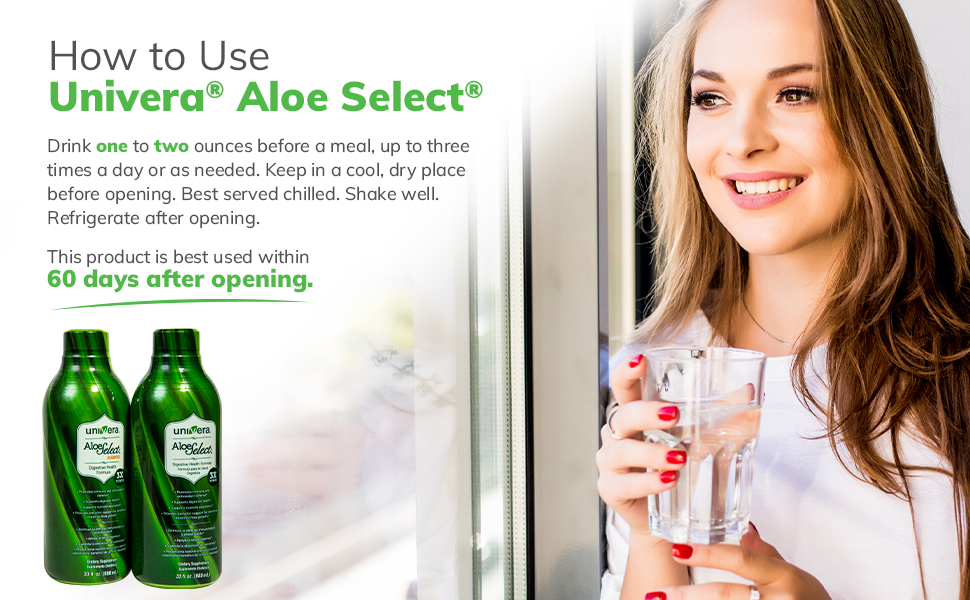 ---
*These statements have not been evaluated by the Food and Drug Administration. This product is not intended to diagnose, treat, cure, or prevent any disease.
**Deal Terms & Conditions: Receive 20% off your purchase of one bottle of Aloe Select and/or Aloe Select Mango. Valid online or over the phone. Cannot be combined with additional discounts, or coupons or used on prior purchases, refunds, or exchanges. To redeem online enter ALOEFLASH at checkout. This discount can be applied to your order over the phone by request and mentioning the discount code. No limit per transaction. Offer only available while supplies last. This promotion excludes subscription/convenience plan orders. Discount cannot be applied to bundles. Offer subject to change without notice. This offer has no cash value. All sales are final—no returns will be accepted. Valid 09/27/22 – 10/09/22, 11:59 pm PST.