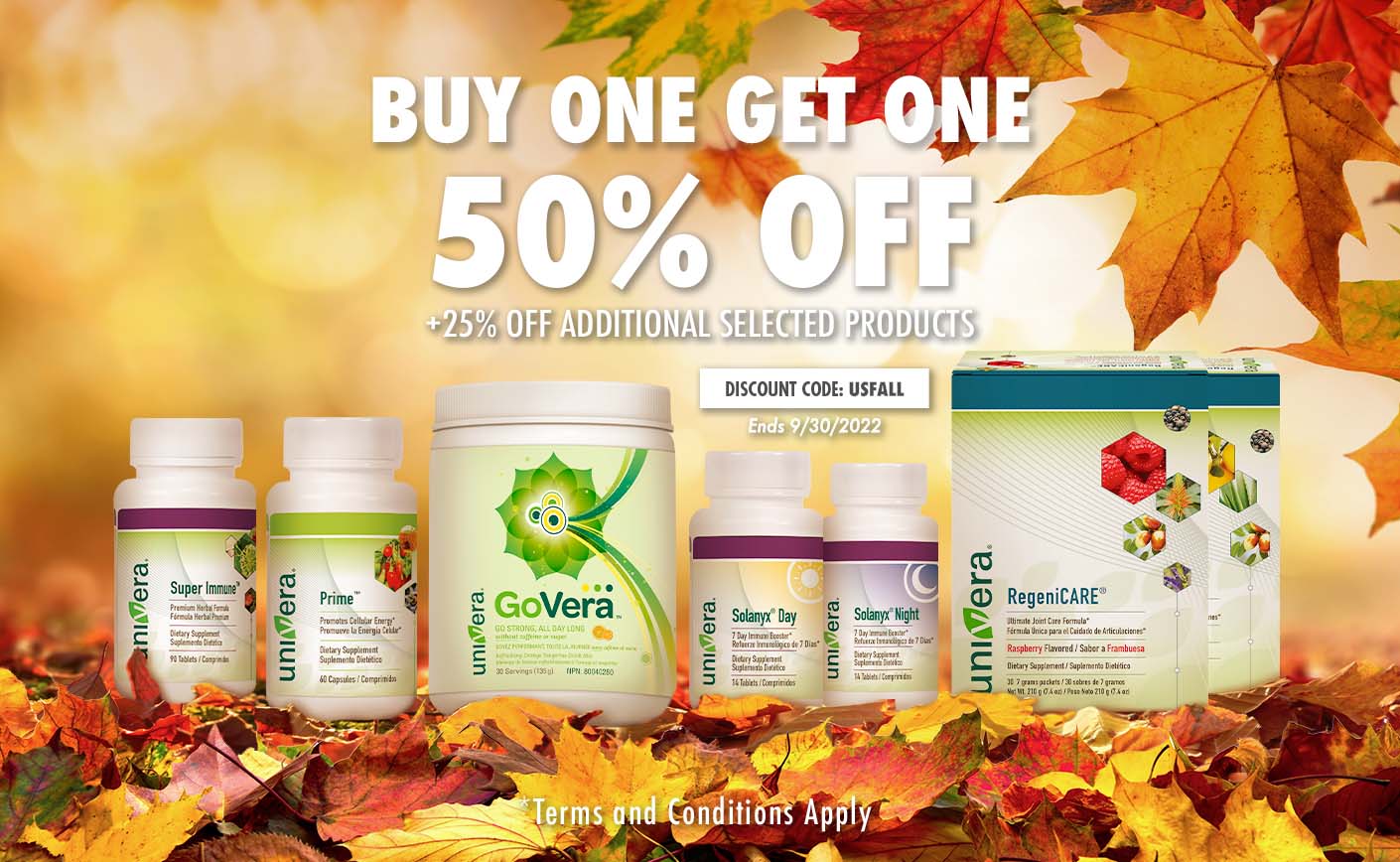 15
Sep
Get ready...Fall is coming! Scientists have proven that your mood and metabolism will adjust when we transition from summer to fall. Reduced daylight can affect our motivation to go outside and seek physical activities. Instead, more people will stay inside and watch their favorite sports, movies, and tv shows due to limited daylight for outdoor adventures.

Just because the season is changing does not mean our attitude towards improving our health should change as well. To counter this, we have an exclusive sale to improve your energy levels and overall health this fall!

Buy One, Get One 50% off select products and 25% off additional select products! This sale will include GoVera (Tangerine), RegeniCARE Sticks (Raspberry + Lemon), Prime, Super Immune, Solanyx AM + PM,
How To Redeem:
Follow these steps to apply this discount!

Step One: Add two (2) of our selected products to your shopping cart (GoVera (Tangerine), RegeniCARE (Lemon + Raspberry), Prime, Super Immune, Solanyx AM/PM)
Step Two: Click "View Cart"
Step Three: Apply discount code "USFall22" into the bottom right rectangle titled, "Apply Discount Code"
Step Four: Stay healthy as we transition to Fall!
Now, let's take a moment to learn how these products can benefit your transition from summer to fall!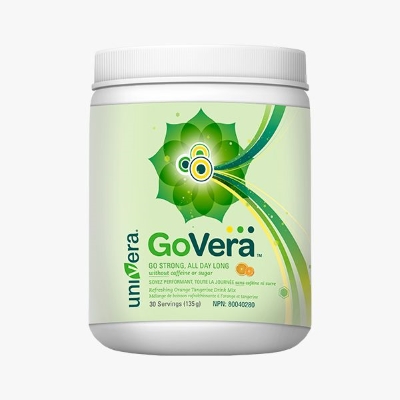 GoVera® contains an exclusive blend of ingredients scientifically proven to provide sustained energy to keep you going strong, all day long. * Avoid the crash associated with traditional energy drinks with this delicious drink mix that contains no caffeine, sugar, or artificial sweeteners.
Benefits:
Natural, refreshing, Tangerine & Apple flavors

Helps boost energy levels and fight fatigue *

Provides nutrients for optimal physical strength and endurance *

Contains zero caffeine, refined sugar, artificial sweeteners, flavors, or colors

Fights hunger and supports healthy weight management and lean body mass *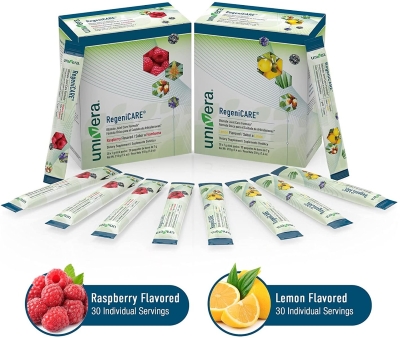 RegeniCARE® is a powerful combination of therapeutic ingredients formulated to restore total joint health.
Benefits:
Promotes Joint Comfort (Protectin™) *

Aids in Joint Lubrication (Chrondroitin and MSM) *

Promotes Flexibility and Ease of Movement *

Aids in Renewing Cartilage (Glucosamine Sulfate) *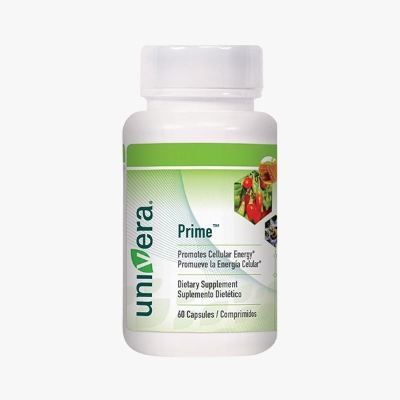 Prime provides optimal repair for your brain and body to promote optimal health.
Benefits:
Unique and all-natural solution designed to keep your heart beating strong. *

Helps support cell renewal signals throughout the body and brain *

Supports cellular energy production (converting food & air into usable energy) *

Antioxidant Protection *

Supports immune health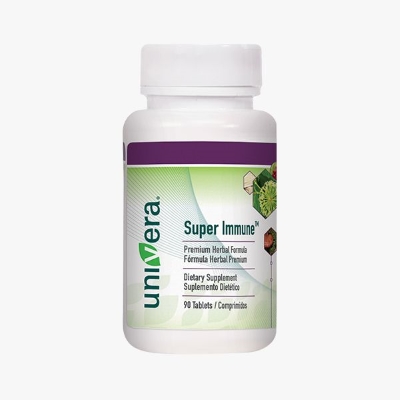 A healthy defense system supports your cells against ongoing attacks. Super Immune™ provides optimal, multi-layer support for your body's defense. It is important to maintain our immune system, allow Super Immune to provide support while protecting cells. *
Benefits:
Assist with physical and emotional stresses with Eleuthero*

Immune system support *

Aids in protecting cells *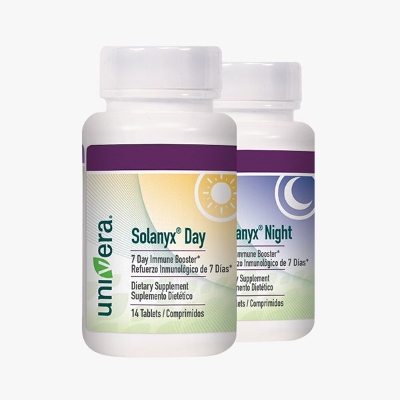 Solanyx ® provides you with immune support when your body needs it most. This 7-day immune support can be taken at the first sign of discomfort or when entering an environment that may compromise your immune function. *
Benefits:
Solanyx AM:
Timed-release powerful immune-supporting complex *

Promotes robust immune health with free radical fighting antioxidants and vitamin C *

Solanyx Night:
Innovative calmative nutrients to aid in restful sleep *

Supports the body's natural defense system *
---
---
---
---
*These statements are not approved by the Food and Drug Administration. This product is not intended to diagnose, treat, cure, or prevent any disease.

**Deal Terms & Conditions: Buy One, Get One 50% off select products and 25% off additional select products when code USFall22 is used at checkout. At the request of the customer, this discount can be applied to your phone order. Cannot be combined with additional discounts, bundles, packs, or coupons used on prior purchases, refunds, or exchanges. All sales are final. This promotion excludes subscription/convenience plan orders. Offer only available while supplies last. Offer subject to change without notice. This offer has no cash value. Valid 9/15/22-9/30/22, 11:59 pm PST (Pacific Standard Time).